Many travelers tend to bump into us as they cross South Dakota via Interstate I-90. It's usually a quick meeting, but they just can't forget our beloved Missouri River and find themselves wanting to spend a few more hours ... a few more days enjoying our scenic beauty on the banks of the river.
There's more to Chamberlain than the Missouri River. The river's Lake Francis Case reservoir offers quality walleye fishing, and our wide open spaces give pheasant hunters pleasant thoughts in the fall.
Families can spend hours learning about South Dakota's history and culture in our local attractions. Or, maybe you'd like to spend some quiet time shopping for antiques and unique items in Chamberlain and Oacoma.
Whatever you're looking for, you can find all your accommodations at Super 8 Motel. Feel free to contact us if you need any additional information. We'd be glad to assist you!
Lewis & Clark Trail —Retracing the Lewis & Clark Journey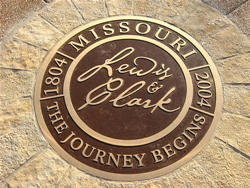 Every year, we see hundreds, thousands, and, soon, even millions of people following the same steps that Lewis & Clark traveled over 200 years ago.
We see people reliving the journey by car, RV, boat, motorcycle, canoe and bicycle. Some prefer the comforts of home offered by Super 8 & restaurants, while others pitch a tent and cook meals over a fire each night.
Whatever your means of traveling and living during your own Lewis & Clark adventure, the Chamberlain-Oacoma area offers something to help make your travels worth writing home about.
Visit the newly expanded Lewis & Clark Interpretive Center at the Chamberlain I-90 rest area between exits 265 and 263. The center features interpretive displays recreating the landmark journey. Also, view the wide expanse of the Missouri River from a 55-foot replica keelboat
Lewis & Clark Interpretive Center
• Chamberlain Rest Area, on Interstate 90 between Exits 263 and 265
(605) 734-4562
• Summer Hours: 8 am to 6 p.m.
Free admission, free parking. Handicap accessible. The center commemorates the Lewis & Clark 1803-1806 expedition as they voyaged through South Dakota. Features interpretive panels and murals re-constructing the expedition journey. Take the scenic walk and view the Missouri River and the community of Chamberlain-Oacoma from a replica keelboat
Climb on board the 55 foot Keelboat that the Corps of Discovery traveled on
as they explored the Missouri River. Experience breath-taking views from the stern of the keelboat. "Re-live" Lewis and Clark's journey with interpretive panels that explain the Corps traveling adventures through present day South
Akta Lakota Museum and Cultural Center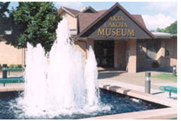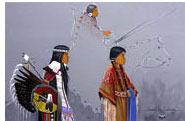 On the campus of St. Joseph's Indian School, North Main Street, Chamberlain
(605) 734-3452 or (800) 798-3452
• Summer Hours (Memorial Day to Labor Day): 8 am to 6 p.m. Mon - Sat, 9 am to 5 p.m. Sunday
• Regular Hours: 8 am to 5 p.m. Mon - Fri (Closed weekends and National holidays)
Free admission, free parking. Handicap accessible. Group tours are available though advanced reservations are appreciated. The Gift Shop and the Collector's Gallery feature a large selection of specialty items related to Native American art and culture.Museum honors the history, art and culture of the Lakota Sioux peoples of South Dakota.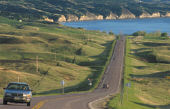 The history of the Sioux and other indigenous people unfolds along this byway through the cultural, historical, and archaeological sites located in the heart of the Sioux nation. Journey through the Crow Creek and Lower Brule Sioux Indian Reservations and view their unique cultures firsthand. Buffalo roam on the high plains that form a sharp contrast to the nearby bottomlands, hills, and bluffs along the river. Enjoy the beauty of Lake Sharpe and Lake Francis Case.
The scenic driving route begins in Chamberlain-Oacoma and cuts through the Crow Creek Sioux (Ft. Thompson) and Lower Brule Sioux (Lower Brule) Native American reservations on the way to Pierre. The route also follows the Lewis and Clark Trail motor route. For more information, contact the Lower Brule Sioux Tribe at (605) 473-5561.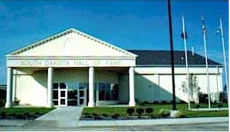 Just off exit 263, 1480 S Main Street, Chamberlain
• (605) 734-4216 or (800) 697-3130
• Summer Hours: 10 am to 8 p.m. Mon - Fri, 10 am to 4 p.m. Sat, 1 p.m. to 4 p.m. Sun
• Regular Hours: 10 am to 5 p.m. Mon - Fri
Free admission, free parking. Handicap accessible. Group tours are available. Features a South Dakota gift shop. The Hall of Fame honors South Dakotans and their contributions to the development and heritage of the state